Groomsmen Wedding Gift Ideas
| Wedding GiftS |
| for Groomsmen |
What are you going get your groomsmen for a wedding gift? You know them well enough or you would not have picked any of them for your day of all days. You have probably known most of your groomsmen most of your life. Yet, any real tangible good ideas seem to be escaping you right now. Well look no further as your trusty local Edmonton Wedding DJs from Happy Wife Happy Life have compiled some great ideas for you to take care of your special men on this special day.
For starters the first thing you should do is write down all your groomsmen's names on piece of paper. Got it? Ok good! Now crumple that piece of paper and throw it in the closest garbage can. Did you make it in? You bet you did because your a champ & here at HWHL we love champs. OK now back to Groomsmen gift ideas.
We could start a list, it would be long and it would be full of awesome stuff like these staple gifts; ties, socks, flasks, cuff links, shot glasses, liquor, knives or even shaving kits. I mean really, the gift is for a man so its pretty easy to get and really hard to screw it up. But, we want our gifts to stand out. We want our gifts to be remembered long after they have left our hands. So maybe going the little extra further with the packaging or really trying to think of that one thing that ties you all together.
Here are some links to some really cool items out there in the internet worlds!
Will You Be My Groomsmen Cigar Box Tux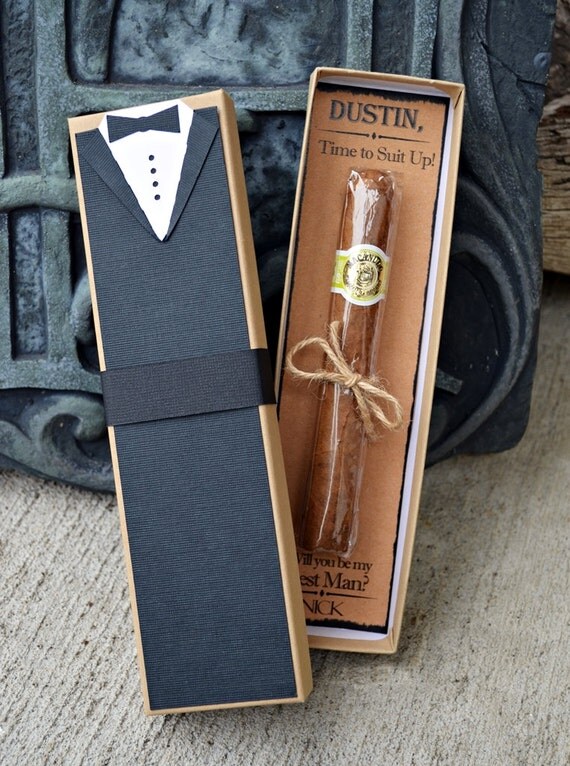 Maybe you're looking to be on a tight budget with this group. You could do something like the next item, fill it with all your favourites beers and its still sure to be a smash with the boys but not on your wallet!
Just remember no matter what you pick as a gift for your groomsmen they will love. You would not have picked these guys to be on your special team if they truly were not already like brothers!
And don't forget for anything Wedding DJ related in Edmonton AB Canada, Happy Wife Happy Life is your only choice for Elite Services!